I will openly admit that I love bacon.  Honestly, what's not to love about the salty, crispy goodness that is fried pork?  But, as with most things divine, moderation is key unless a future in XXXL pants is desired. Its no secret that America is fat. The fattest city in the US 20 years ago has the same percentage of obese people as the slimmest city does today!  That statistic is disturbing. What has happened to our culture? When did this become okay? I will tell you when it became okay- around the same time that people decided it was appropriate to line up for this:
If we only enjoyed deep fried treats once a year at the fair, this wouldn't be such a huge deal (though I honestly can't imagine a situation when deep fried butter would be acceptable), but we live in a world where people have their own deep fryers at home! 
And for crying out loud, why on earth would anyone even want to eat this?
Disgusting.
Now I am not going to pretend like I never go to Mc Donald's or that I don't let my kids have a corn dog when they go to the fair. 
But I also feel like my decision to make a small garden in the backyard so my kids are familiar with more than corn and green beans, along with my pursuit of outdoor activity with my children, help counter act any of the occasional food splurges they might have.
How do I know this is working?  Well for one thing my three year olds can actually identify most of the crops growing in the Centennial Garden.  Considering the tiny number of fruits and veggies  the average first grader in this country can identify, I think we are on the right track. I also know that when my daughter chooses roasted corn over every other food item at the fair, I am teaching her good habits.
Look- I am not saying that kids shouldn't have a treat at the fair. By all means, indulge. But what I am saying is that we are shaping the next generation's minds, bodies, and attitudes and if we choose to make things like deep fried butter a part of our culture, we are heading in the wrong direction. I refuse to let my kids be another statistic.  They aren't going to sit inside all day playing video games while eating processed food. It isn't okay.  The stats have to be reversed.  We as parents need to be more responsible for the health of our children.  And the fair should be more about this:
And less about this:
Okay. I am stepping off the soapbox for today….
Playing along with Trekaroo's Spotlight Thursdays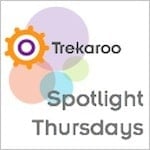 And Delicious Baby's Photo Fridays.