(photo courtesy of Wikipedia)
Circus trees. They were the brain child of Axel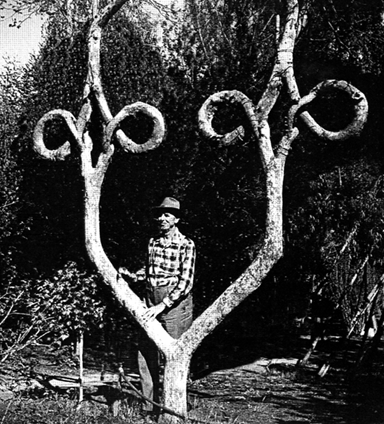 Erlandson and have mystified tourists in the Santa Cruz area since the late 1940's. At their peak, over 70 circus trees existed. Now only 25 survive in Gilroy Gardens, which proclaims itself to be the only horticulture theme park in the country. Mr. Erlandson never divulged his trade secrets, only claiming that he "talked to the trees" . His legacy now lives on amongst the Garlic Twirl and Budgy the Goldfish rides. This is not a Six Flags heart pumping thrill ride type of theme park by any means. The rides are more geared to the younger set and the gardens make hours of watching your children go in a slow circle while sitting inside of a variety of whimsical creatures much more enjoyable for the adults.
There is a water area open in the summer which is quite nice since it can get pretty hot in Gilroy come June, July, and August. Luckily there is also plenty of shade from all the gardens and plenty of water to enjoy.
If you have little ones and are looking for a nice place to spend the day in between hours of sampling garlic ice cream, garlic jelly beans, and garlic fries at the Garlic Festival this summer, I highly encourage you to check out the circus trees at Gilroy Gardens. Who knows, maybe you will inspire your little one to one day set up her very own horticultural circus.